The Virginia Tech Hokies captured the Coastal division title in 2016 under first year head coach Justin Fuente, then beat Arkansas 35-24 in the Belk Bowl to cap of a 10 win season. Last year, we saw some great play from unexpected players. The most notable performance was that of Mitchell Trubisky who burst onto the scene in Chapel Hill, North Carolina after being a back up his first two years, and led the Tar Heels to an 8-5 record. Trubisky was also selected second overall in the 2017 NFL Draft. Just like last year, the Coastal looks to be a tight race to get to the top, but some teams have an edge over the others.
Virginia Tech Hokies: Virginia Tech claimed its first 10-win season and Coastal Division title since 2011, behind first year head coach Justin Fuente. Now entering his second year, Fuente needs to find replacements at quarterback, tight end, runningback, and wide receiver. Tech has three options at quarterback; junior college transfer A.J. Bush, redshirt freshman Josh Jackson and true freshman Hendon Hooker. The Hokies saw some inconsistency  at the runningback position, but Travon McMillian looks to assume the starting role after rushing for 671 yards last year. Cam Phillips will take on a bigger role at the wide receiver position with the departure of Isaiah Ford. Defensive coordinator Bud Foster is entering his 23rd year, and has always been able to put together a solid defense. Virginia Tech finished third nationally in third-down conversion percentage a year ago. The Hokies have a stellar secondary with returning starters, Brandon Facyson and Greg Stroman at cornerback and safety Ferrell Edmunds. Facyson, Stroman and Ferrell helped the Hokies secondary combine for 16 interceptions last year, which was good for second in the ACC. Linebackers Andrew Motuapuaka, Tremaine Edmunds and Mook Reynolds headline Tech's front seven. Motuapuaka finished fifth in the ACC in tackles with 114 and Edmunds racked up 18.5 tackles for loss. The Hokies have a great coaching staff and a solid starting 11 on both sides of the ball, which makes it hard to believe that Virginia Tech will have an off year.
2. Miami Hurricanes:
Miami is another ACC team trying to fill an empty spot at the quarterback position. Junior Malik Rosier is the top candidate to replace Brad Kaaya, but true freshman Cade Weldon, redshirt freshman Jack Allison, and redshirt sophomore Evan Shirreffs will all get a steady look at the starting job. Protecting the quarterback are three returning starters (K.C. McDermott, Trevor Darling and Nick Lander) and Louisiana State transfer George Brown Jr. Junior Mark Walton rushed for 1,147 yards and 14 TDs a year ago, and will give second year offensive coordinator Thomas Brown a reliable source of production until the new quarterback gains confidence. Ahmmon Richards is a reliable target in the passing game, after Richards broke Michael Irvin's program record for a freshman with 934 yards receiving. Richards 934 yards were also a team high. Miami's defense finished 20th in yards allowed per game with 345.4, 12th in points allowed per game at 18.5 and 26th in defending the run, allowing 131.6 yards per game. The Hurricane defense has seven returning starters from last years squad, with sophomore defensive end Joe Jackson (8.5 sacks, 11.5 tackles for loss, both team highs) returning to the line. Miami had three freshman start at linebacker positions last year; Shaq Quarterman, Zach McCloud and Michael Pickney. Quarterman was second on the team in tackles with 84 while also having 10 tackles for loss and 3.5 sacks at the middle linebacker spot. McCloud had 37 tackles and 3.5 tackles for loss and Pickney had 61 tackles and 7.5 tackles for loss. Graduate transfer and two-time FCS All-American Dee Delaney is expected to start at cornerback with junior Jhavonte Dean expected to be the other corner. True freshman Trajun Bundy is expected to see playing time at corner as well. Miami hosts Virginia Tech on November 4th, a game that could decide the Coastal Division champ.
3. Pittsburgh Panthers: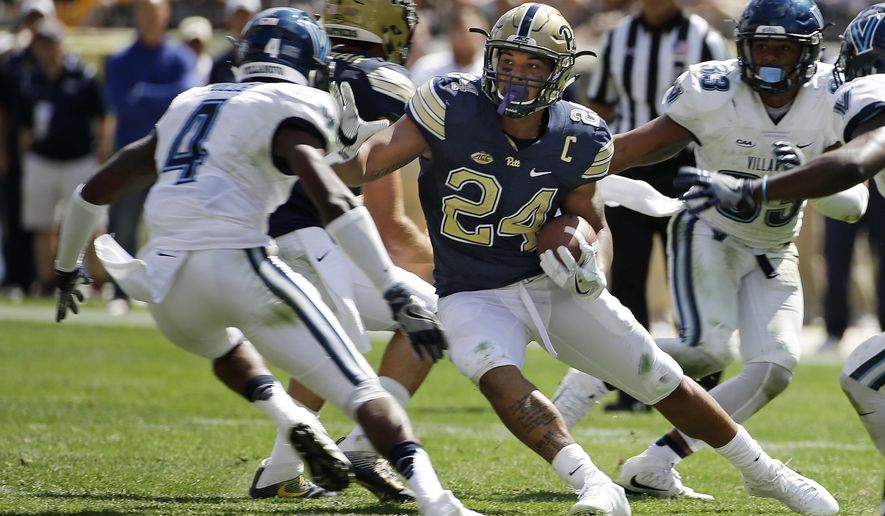 Pittsburgh loses 12 starters from last years team including James Conner at runningback and Nathan Peterman at quarterback. When Conner got hurt back in 2015, Qadree Ollison filled in and rusher for 1,121 yards. Ollison will likely take over the starting role with fresham A.J. Davis as the back up. Former five-star recruit and USC Trojan Max Browne will need to prove that he is much better than what he showed in three games last year with the Trojans before losing his starting job to Sam Darnold, who is now a Heisman candidate. Browne will have two explosive wide outs to throw to; Jester Weah and Quadree Henderson. Henderson established himself as a triple threat player, surpassing the 2,000 all-purpose yard mark. Henderson also combined for 10 touchdowns with five rushing, one receiving and returning four. Weah was second nationally, with 24.2 yards per catch and had 10 touchdowns. Pitt will return three offensive linemen, with Brian O'Neil and Alex Bookser earning All-ACC honors. The Panther defense ranked 16th nationally against the run, but only Arizona State was worse at defending the pass. Only two starters return to the front seven and safeties Jordan Whitehead and Avonte Maddox return the shaky secondary. The Panthers' probability of win the Coastal is slim, but a second place finish is not too far fetched. Pitt could be a sleeper to win the Coastal, with games against Virginia Tech and Miami to close out the season, the Panthers could potentially knock off defending champ Virginia Tech and notch a win against Miami.
4. Georgia Tech Yellow Jackets:
Georgia Tech is yet another ACC team looking for a new quarterback. Junior Matthew Jordan seems to be the likely choice for the job, but fellow junior TaQuon Marshall is also in the mix. Six offensive linemen return giving 10 year head coach and offensive coordinator Paul Johnson options at the line. The Yellow Jackets return all contributing receivers and top runningbacks that include, junior Clinton Lynch who averaged 11.2 yards per carry. Georgia Tech's defense returns all five starting secondary members from last years team. Among the five returning defensive backs are twin brothers Lance and Lawrence Austin. The two combined for six INTs last year. The Yellow Jackets d-line members could only muster up 18 sacks in 2016, but the defense did rank 59th in total yards allowed, 68th against the pass and 64th against the run. With 17 total returning starters from a year ago (eight on defense, nine on offense) the Yellow Jackets may force their way into top three, and maybe a Coastal division title.
5. North Carolina Tar Heels:
LSU graduate transfer Brandon Harris will likely take over the starting quarterback job, that Mitch Trubisky left behind when he opted to enter the NFL draft. Harris is a duel-threat quarterback that should do well in North Carolina's spread offense. Stranton Truitt, Jordan Brown and Michael Carter will all see time at the runningback position. Austin Proehl will be the go to target for Harris this year. The Tar Heels gain two more graduate transfers; Cam Dillard (Florida) and Khaliel Rodgers (USC) bolster an offensive line that returns three year starter Brentley Spain and sophomore Tommy Hatton. Although North Carolina's defense had a nations worst one interception, it ranked 12th nationally in defending the pass. North Carolina struggled against the run last year giving up an ACC worst 227.3 yards per game. Senior safety Donnie Mills (102 tackles) and senior corner M.J. Stewart (team high 11 pass break ups) return the the Tar Heels secondary. Juniors linebackers Cole Holcomb (115 tackles) and Andre Smith (113 tackles) return in hopes for another great year. The Tar Heels are team capable of doing big things this year, it is just a matter of getting Harris settled into a new offense and the defending the run better. Non the less the Tar Heels have proven themselves to be one of the top teams in the Coastal and like Georgia Tech and Pitt, could find themselves atop the Coastal.
6. Duke Blue Devils:
Duke struggled last year going 4-8 and missing a bowl game for the first time since 2011. Sophomore quarterback Daniel Jones threw for 2,836 yards and 16 touchdowns last year filling in for Thomas Sirk who suffered an Achilles tendon injury before the start of the 2016 season. Sirk transferred to East Carolina at the end of the season.  The Blue Devils return their top rusher (Shaun Wilson) and three top receivers; T.J. Rahming, Chris Taylor and Johnathan Lloyd. Duke's defense took a massive blow to the stomach in February when defensive end Marquies Price and defensive tackle Brandon Boyce were dismissed from the team. Combining for 213 tackles and 20.5 tackles for loss, linebackers Ben Humpherys and Joe Giles-Harris return looking to make an even more of an impact in 2017. The Blue Devils struggled against the pass last year ranking 110th in pass-efficiency defense. Duke has three returning secondary members to help improve that dismal 110th ranking. With questions on defense, a sixth place finish fits the Blue Devils, but finishing higher is certainly possible.
7. Virginia Cavaliers:
There is not much to talk about a 2-10 Virginia team. The offense ranked 112th in total yards, 113th in pass-efficiency, 115th in scoring and 121st in rushing yards per game. Senior Kurt Benkert will likely retake the starting role at quarterback, that he lost late last season. Receivers Olamide Zaccheaus and Doni Dowling will be valuable players in the Cavaliers passing game. Seniors Micah Kiser (linebacker) and Quin Blandley (safety) will return to the defense as the two stood at the top of ACC in tackles with 134 and 120 respectively. Kiser also lead the team in sacks with 6.5 and forced five fumbles. It may take a couple of years before head coach Bronco Mendenhall coaches in a bowl game again, after having 11 bowl appearances with BYU. Mendenhall has proven that he is capable of turning losing teams around, as he did it in his first year as BYU's head coach in 2005, when he led the Cougars to their first bowl game since 2001 and snapped the programs three consecutive losing seasons.